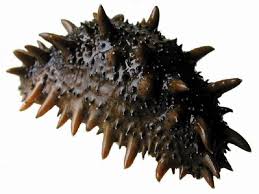 The Chinese called trepang «hayshen», i.e. «Sea ginseng». Golden Horn Bay before the arrival of Russian was called «Hayshenvey» – Bay of sea cucumber.
The ancient culture of sea cucumber crossed time, appearing, disappearing into the everyday life of the Chinese. Only a few hundred years ago, the sea cucumber became widely used in medicine.
From the 16th century – since the mention in the medical treatises – we put it on a par with other iconic symbol of health – ginseng, calling «hayshen», i.e. «Marine root of life», bearing in mind the history, reputation and popularity of ginseng. And medieval healers were not mistaken: ginseng contains active substances that exist in the sea cucumber: the major healing properties of ginseng saponins are enclosed in, except for saponins  the sea cucumber contains much more.
Methionine and taurine – two interdependent amino acids. From the volume of dependent methionine synthesis of taurine, which reduces irritability, improves brain activity and memory.
Selenium can inhibit the growth of cancer cells and the further spread of cancerous lesions, support the immune system in equilibrium. The most powerful anticancer weapon of trepang  – triterpenoid, it stops the metastasis by inhibiting migration and proliferation of cancer cells in the body.
Eating trepang increase immunity, activity, performance, keeps the youth and elasticity of the skin. Sea cucumber is rich in arginine, which helps middle-aged women keep youth, so it is widely used in cosmetology. One of the most important components is antioxidant enzyme superoxide dismutase (SOD), which reduces the risk of diseases of the skin and internal organs.
Another useful actions of sea cucumber  is its effect on the circulatory system: it purifies the blood, prevents high blood pressure, diseases of the brain, helping patients recover after a heart attack, prevents blood clots, reduces blood sugar levels, and improves circulation.
It is recommended for tuberculosis, anemia, thyroid diseases.
The Chinese also call trepang «Sea Viagra». It is the best aphrodisiac agent, as figured by the ancient Chinese in the shape of sea cucumbers. Trepang increases the potency, improve erection, increases brain activity, is able to slow the aging of the sex glands and increases the libido, helps to preserve the male hormone testosterone, anti-inflammatory effect on the cellular level, improves blood circulation in the pelvic organs, and helps stimulate sexual function.
It is also rich in vitamin C, niacin, zinc and magnesium, which remove the nervous and muscular tension, fight free radicals, beneficial effect on the production of sex hormones.
On the composition of minerals from the sea cucumber can not match any known organism. Scientists have found more than 40 elements of periodic table in trepang, they are present in all human cells, its tissues, the enzymes involved in the formation of hormones and metabolic processes.